Wooden sailboat "Sabani" tour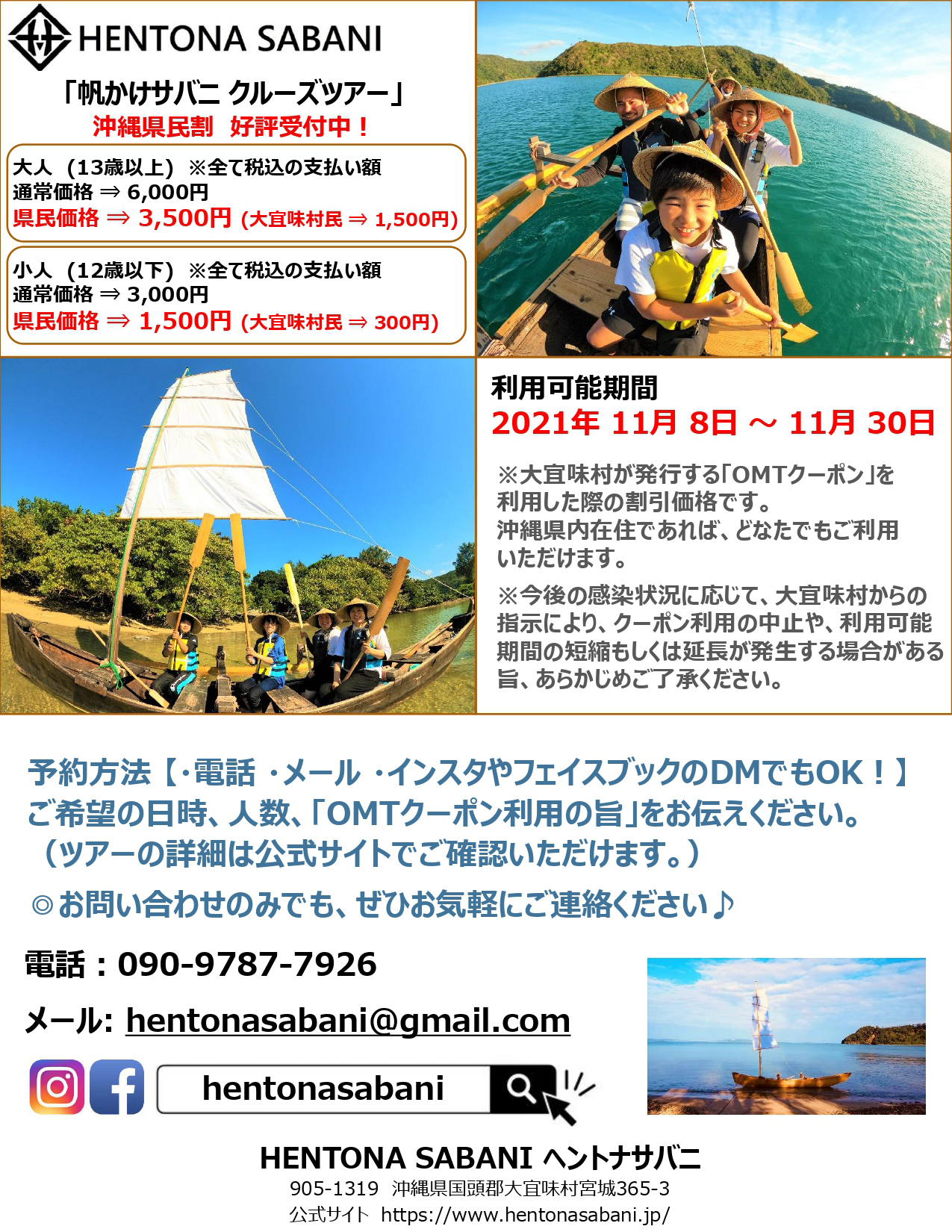 Wooden sailboat "Sabani" tour is a quaint old-fashioned new marine activity by ocean lovers married couple Teppei and Match.
Our "Sabani" powered by sail and paddles but without motor.
You can enjoy the beautiful view "Shioya bay" or west coast area located in Ogimi village, northern Okinawa island, Japan.

Priority first is safety.
Our tour's "Sabani" has outrigger for balance. You don't have to warry about capsize.
Tour details
・Captain control the boat with sail and paddle. You can enjoy the paddle by yourself.
・This tour is a popular activity with people of all ages, from infants to the senior citizens.
・You can spend as you like, relax and watching beautiful scenery or enjoy the paddle with guide.
Tour Time
2 hours
Price
Adult (Age 13 or more) 6,000yen (Tax included) per person.
Youth (Age 12 or less) 3,000yen (Tax included) per person.
Tour capacity
minimum 2 people, maximum 6 people
Payment method
Cash Japanese yen only
How to make a reservation
TEL 090-9787-7926 090-9787-7926
①Please tell us the number of people, the date and time of your choice.
②We will answer you available or not, after check the schedule and the forecast of weather, wind speed, wind direction, sea conditions.
③please tell us the name, phone number, age.
Precautions
・When you get on the boat, you will wet under knee. Please wear clothes and footwears you don't mind getting wet. If you have marine shoes, please use it.
・During tour, sometimes you will wet by suddenly rain or water splash by paddle action or something. Please bring the towel and extra clothes just in case.
・Please go to the lavatory (restroom, washroom, toilet) before come to meeting point. There is no lavatory around here.
・On the day, If the weather (wind speed, wind direction, sea conditions) will be bad, unfortunately we will cancel the tour. Our priority first is safety for guests. Thank you for your understanding.
・If you have any other questions, please feel free to contact us.